"I really liked how the course was set out it involved a lot of fun activities. The instructors passed the message in a clear manner. I look forward to applying the skills learned in my project."

– Eric Magembe, Senior research associate, International Potato Center (CIP)
Golden Gate cloning is a method to assemble multiple DNA fragments simultaneously and directionally in a single tube reaction. The modular system of DNA assembly allows the rapid construction of gene expression cassettes from basic parts and the hierarchical assembly of these units into multi-gene constructs for plant transformation. This method can reduce months or years of work to a matter of days and generate multiple constructs that are ready for transformation and testing in plants. Golden Gate DNA assembly has been a crucial part of a large Bill and Melinda Gates funded project ENSA (Enabling Nutrient Symbioses in Agriculture) coordinated by Giles Oldroyd at the John Innes Centre. This ambitious project aims to engineer a nitrogen-fixing symbiosis in crop species and this process involves testing many combinations of genes, promoters to established new signalling pathways. To make the Golden Gate strategy accessible to researchers hundreds of DNA modules and associated sequences need to be shared. The ENSA project has created web-accessible data management tools that have been shared with an international network of scientists working on similar complex engineering task in cereals. Essential supporting platforms for module production through gene synthesis and construct validation through next-generation sequencing have also been established by ENSA. By coordinating gene synthesis and sequencing the costs associated with accessing these technologies has been vastly reduced.
Objective:
The aim of this workshop was to support BecA in setting up a similar Golden Gate platform on site and train staff on all aspects from how to carry out design, assembling and verifying constructs using the Golden Gate method. There was a lot of time put aside for discussion on individual designs to ensure participants will successfully make a construct and help embed the technology at BecA. This will be the first major technology transfer from JIC to BecA. To establish a Golden Gate platform at BecA the team provided:
A core set of constructs to start the platform
Use of synthesis and sequencing platforms through ENSA
Technical advice for individual designs
BecA management tool website for the new users (www.BecA-synbio.org)
Protocols for all stages of design, assembly, validation and advanced techniques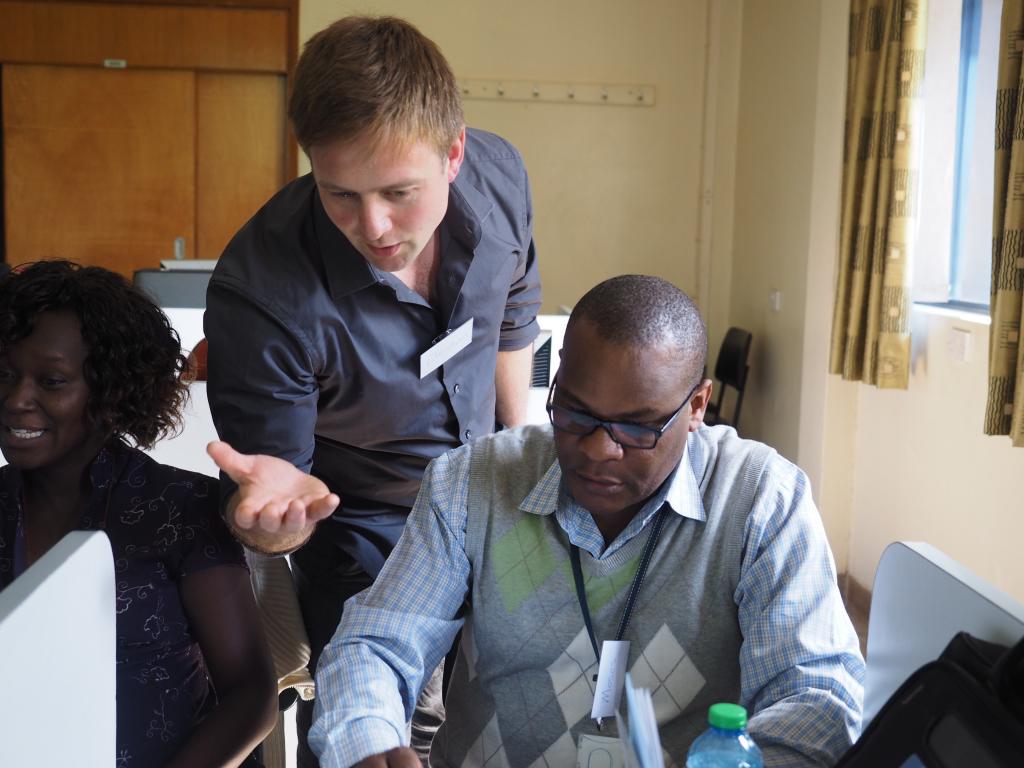 Feedback from the Participants:
The Workshop team collected feedback on all 3 days to document the expectations, learning gaps and individual perspectives as the workshop progressed. This is summarised below:
Excellent trainers with a really hands-on approach to teaching. "They were very approachable, patient and awesome!"
The training sessions were thorough, clear and at the right pace to maintain understanding.
They really enjoyed the game because it encouraged team building and made the theoretical part easier to understand.
They liked the interactive learning with the computational exercises and practical sessions.
Improvements for 2016:
The feedback that was given by the participants on what could be improved next time identified two areas that could be improved. Firstly generally more time and secondly more time on the exercises with the construct breakdown forms and the in silico practicals using the CLC software.
In response to this we have lengthened the time period for the next workshop and in included more in silico exercises.
"The participants at ILRI-BecA we excited by the potential of Golden Gate. The challenge for us was to take the participants through the steep learning curve of modular construct design. After making your first construct this way you would never return to the labour of conventional cloning and by the end of the workshop nearly everyone had created their first 40,000bp Golden Gate construct in the lab. The open sharing necessary for Golden Gate naturally creates a community of researchers working with the latest strategies in molecular biology. Golden Gate is a perfect fit BecA-ILRI hub and a great foundation for the BecA-JIC alliance."

– Christian Rogers, John Innes Centre